Ultimate NEW Chalk Drawings Gallery
Probably you are already familiar with the news break of Michael Jackson's death. I give it to him, he was truly one of the biggest music contributors in our history, yet I feel somehow divided about the atmosphere floating around his name currently. Things he was accused for while living, are the most disturbing ones human being can digest. He was never a positive individual in my opinion, yet millions of people talk about him like he was a saint. I would like to ask them would they every let Michael babysit their kids? Am not sure whether all this is inappropriate to say at the current moment, and this is why I started this topic with the fact I still have divided thoughts on this. Still, it puzzled me so had to share it with you guys. If you wish to comment my standings, please do so without flaming. Brainstorming, discussions and reflections are more than welcome, though. Now when I spilled my guts, we can continue with optical illusion of the day.
Few days ago I have my Ultimate Mural Gallery with you. I'm happy to inform you this was only an intro to much more expected post (at least by your emails) containing NEW SIDEWALK DRAWINGS. There are just too many of them (laying on my disk that were never before published) to tease you by posting one at the time. This way I give you a complete gallery of never before seen 3D Chalk Drawings. If this is still not enough, I dare you to check all of our archived ones inside this category. Don't forget to rate history posts you are seeing, since when all the posts on this site receive enough of the ratings, I will release most comprehend list of the TOP OPTICAL ILLUSIONS ever! As our website has the most concentrated audience of optical illusion lovers, I believe this list will truly represent top optical illusion, the internet has witnessed.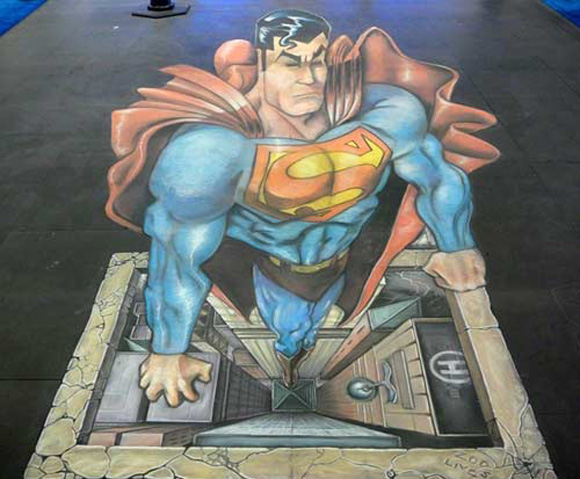 Check our newest 3D Chalk Drawings gallery below: