We are revisiting an earlier post on Moillusion.  This is the time we receive our very first illusion from our readers.  
Thanks to scienceduck, we got our first user-submitted illusion! I encourage you to submit all of your optical illusion material that you think we should publish here. As the title says, this one is taken in Toronto. I wasn't sure at first if it is just a painting on the building wall, or is it something like billboard attached to its side. Jump inside this article and see another picture, this time is taken from different angle. Also be sure to visit scienceduck's homepage for more wonderful images and optical illusions, taken by a camera.
We have come a long way since 2006.  Today we have a mini history lesson.
The Flatiron Mural by Derek Besant. Located in downtown Toronto, the Flatiron building built in 1891 by architect David Roberts was the first flatiron preceding the famed New York building.  In 1998, Canadian artist, Derek Besant painted a mural that mirrors the building directly across from it. The mural consists of over 50 panels attached to a steel frame mounted on the wall and gives off the effect that the painting is fluttering in the wind being held up by screws.
The Canadian building was actually an inspiration for the New York landmark.  This mural also paints the illusion that there are windows on the west facade of the Gooderham Building.  I think I see someone looking out.
Recently, the area has been hard at work to revamp urban spaces.  In addition, we see great animal illusions from the dog themed Berczy Park project that is complete as of June 2017.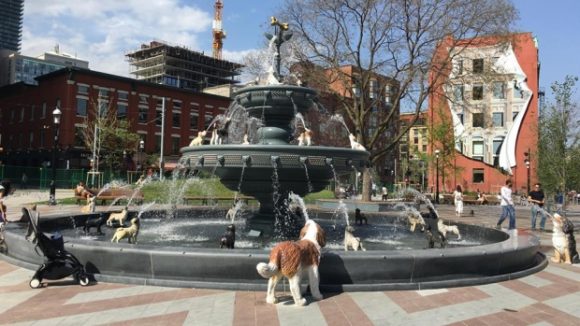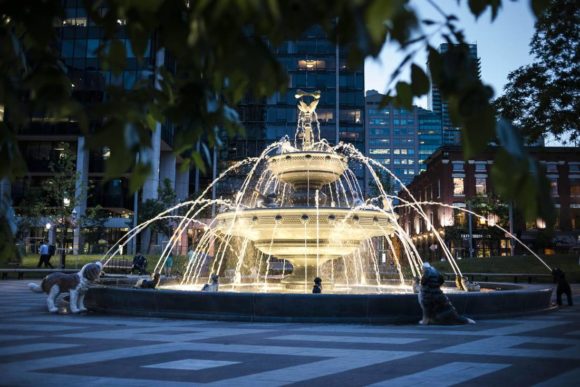 The dogs you see are in fact sculptures hand painted by landscape architect Claude Cormie.  Very clever and a tribute to our four-legged pals.