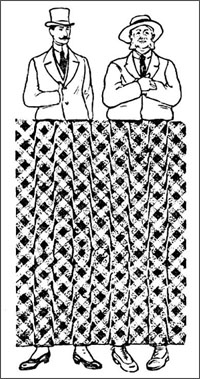 Our friends over from Deceptology are coming up with some great optical illusions lately. Check out them bow-legged gentlemen on your right for example!
The effect used is relatively simple, one we featured hundreds of times in our Seemingly Bent category. But this time you can see it in more interesting context. The bent lines represent the legs of two gentlemen.
Can you force yourself to see their legs perfectly straight? Even though they appear bent, in reality they're 100% parallel and straight. If you haven't realized by now, it's the checkers background that makes this effect work! This optical illusion originally appeared in 1913, in "Popular Mechanics".
BTW, hope you had a wonderful New Year's eve, and I wish you all the best in 2011! Let's hope our little community does even better than it did in 2010! This time last year I compiled my personal pick of Top 10 Optical Ilusions of 2009. I also did Year's Recap in numbers. Expect something similar in days to come!