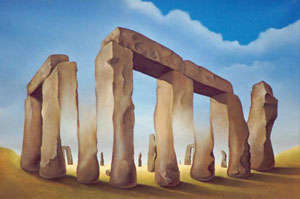 Going through my off-line illusion archive I have stumbled across an interesting painting created by Norman Parker. All odds are that last time I've seen it I overlooked the illusion it holds, thus decided there is nothing exceptional about his art.
Being in a hurry man can overpass some really worthy opportunities. Luckily, I spotted the mistake today, and am fixing this injustice. Our regular visitors should notice the impossible columns motive instantaneously, but to the untrained eye this illusion can be harder to spot *shame on me*.
NEWSFLASH: I've just been informed by our friends over at BlogHer how they teamed up with Intel, and decided to give Mighty Optical Illusions' audience a special invite, for a chance to win 4 brand new laptops with futuristic Intel® Core™ i5 processors. There is even a greater chance for you to win some of the $250 Best Buy gift-cards simply by leaving a comment on one of the featured blogs. If this interests you, be sure to read more about their unique opportunity here!