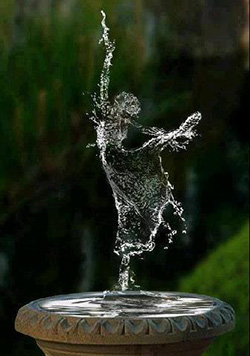 Glad you liked my previous two posts! Old school illusions never get old, do they? Still, balance is important in every aspect of our life, and same goes for this site as well. Let me show you another real-life photo, one I hope was just a lucky shot and wasn't touched by photoshop.
A splash caused by an ordinary droplet (caught in exactly right moment) can become something much much more, only if you're lucky enough to catch that moment. An unknown artist took this beautiful photo – a splash forming a figure of a beautiful and realistic dancing ballerina. Can you see her? How beautiful is she! If someone can help me isolate her origins, I'd be more than grateful!
BTW, I'm still on a vacation which should last till the end of August. I'm giving my best to post regularly, but the connection is really crappy here :( I guess all should return to normal soon. Take care people!