Thanks to Yan and his will to help us, the Google Gadget is now completed! You can find our Gadget here: Optical Illusion Of The Day Gadget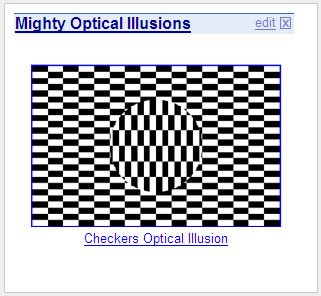 From now on, when new post appears on this website, you will receive that Optical Illusion in your Google Reader automatically. Also notice that the Optical Illusion Of The Day Gadget has little "edit" button in upper-right corner – you can choose which one, from the last 5 illusions, should appear. Enjoy!


I would also like to thank personaly to Rizwan Jiwan, for helping us to develop Optical Illusion Of The Day Dashboard Widget for Macintosh Desktop.
If some of you would like to participate with your ideas, suggestions or help, please comment in comments section. Also if you have idea how to modify this Gadget, so that it can be also submitted to Yahoo Widgets, please sontact me on [email protected]. If you would like to help, spread the word about this Gadget, and subcribe to it! Every subscription (it's free!) helps!
Our latest illusion should appear in your Google Homepage! It should look something like this. Test It Now!