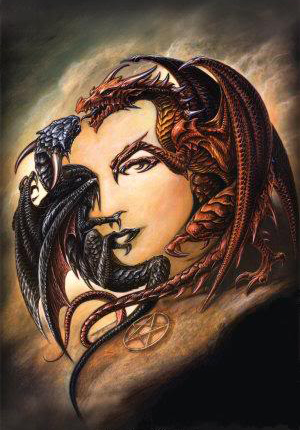 Ok, a fine medieval-looking gal appeared in your widget and you decided to follow the link, thinking there is more to it then just her pretty young looking face. Well, to disappoint you, in a moment or so you'll realize our pretty guest has seamlessly disappeared, and left us alone with nothing but lonely memory of her.
So I romanticized this article a little, but I'm sure you won't mind. Either way, concentrate on this Fantasy scene a little deeper, and soon you'll realize there is "nothing more" then two scary dragons threatening each other (or kissing, as far it concerns me). It really amazed me how well did the artist manage to implement the girl's face, and then bring it to the the center of attention. We have had some similar attempts before, but most of the time they involved mistakes and were not-so-well integrated.
Those of you who are into tattoos, here's a nice idea for you. Remember our old friend Greg Grease Lehman? Print this, and head straight to Greg's tattoo shop! I believe he won't have anything against illusions like this one! Hehe…
Have you noticed how some of the illusions have evolved? When I saw this picture, somehow it reminded me of a Young Lady or an Old Hag illusion. Wouldn't it be awesome if this illusion contained another hidden effect, where you could see the lady's face both as young and as old one? Comment!