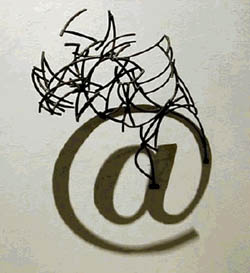 Ok, remember the exciting announcement I mentioned earlier? Well, I couldn't wait any longer to share this with you guys. So here it is – We have finally completed the "Daily Optical Illusion" app for iPad (and iPhone).
Those lucky bastardz who got their hands on Apple's premium gadget already, can immediately get the app via iTunes (link here – don't forget to click the little iPad icon to see the iPad specific screenshots, not iPhone ones!). Rest of us can enjoy the screenshots below.
Well, actually the revamped app is universal, so those of you using iPhone can download as well, but I believe most of the premium features work better on iPad. Anyway, I'll create the separate page for the App soon, but just wanted to share the news first.
All of the app specs can be found inside the app store, but basically you get a new illusion each day (or two), package full of already published illusions, descriptions, comments, ratings, and much much more…
Oh, and not to skip the current "illusion of the day", here's another Tim Noble and Sue Webster shadow art installation. The illusion works in a way, that when light is cast on the seemingly random garbage formation, it produces a shadow resembling AT sign, the inter-connector we mostly use in email communication (or on Twitter ;)
iTunes: iPad App · iPhone App · Download