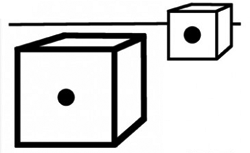 I have prepared a little longer article than usual for today, but if you have nerves going through it (specially if you are a kid or have one), I believe you will learn something worth knowing. So let's begin – take a cup of coffee, sit back in your favorite easy chair and we are ready to start…
Point of this post is to explain how sometimes seeing means deceiving before believing, depending on your age. There is a new study suggesting that children and adults size up objects differently, giving youngsters protection against a visual illusion that bedevils their elders. This unusual triumph of kids over grown-ups suggests that the brain's capacity to consider the context of visual scenes, and not just focus on parts of scenes, develops slowly. Even at age 10, children lack adults' attunement to visual context. Paper suggesting so was published online November 12th in Developmental Science. This research was done by psychologist Martin Doherty of Stirling University in Scotland and his colleagues.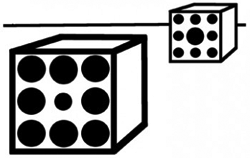 You may see three different versions of Ebbinghaus Optical Illusion test accompanying this article. Visual context can be experimentally manipulated to distort adults' perception of objects' sizes. But strangely, Doherty's group finds that children, especially those younger than 7, show little evidence of altered size perception on a tasks such as Ebbinghaus illusion. Other investigators have noted that children with autism don't succumb to visual size illusions, consistent with the idea that autism involves an excessive focus on details. (more…)
But visual context largely eludes all young children, not just those with autism. Doherty's team studied 151 children, ages 4 to 10, recruited from a Scottish primary and nursery school. Another 24 volunteers, ages 18 to 25, were college students. You may see the test we are talking about presented in the example below: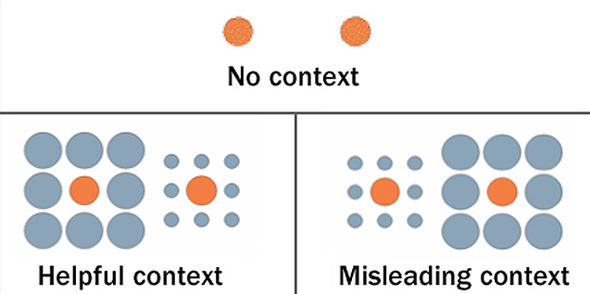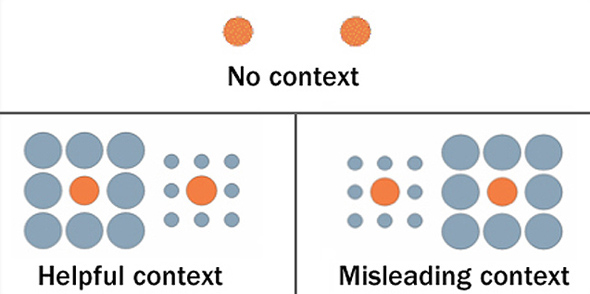 Participants viewed a series of images containing pairs of orange circles in which one circle was 2 percent to 18 percent larger than the other. An experimenter asked participants to point to the circle that looked bigger. Control images showed only two orange circles. In other images, each orange circle was surrounded by gray circles intended either to hinder or aid accurate size perception.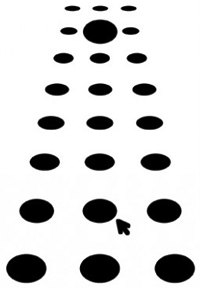 Misleading images showed the smaller orange circle surrounded by even smaller gray circles to boost its apparent size. Large gray circles surrounding the larger orange circle were intended to shrink its apparent size. In helpful images, large gray circles surrounded the smaller orange circle to make it appear smaller than it actually was. Small circles surrounded the larger orange circle to magnify its apparent size.
4-year-olds correctly identified the larger circle in 79 percent of control images. That figure rose with age, reaching 95 percent in adults. For 4- to 6-year-olds, accuracy of size perception for misleading images remained at about what it was for control images. Misleading images increasingly elicited errors from older children and tricked adults most of the time. Adults made almost no errors on helpful images. Kids from age 7 to 10 erred on a minority of helpful images, while 4- to 6-year-olds performed no better than chance.