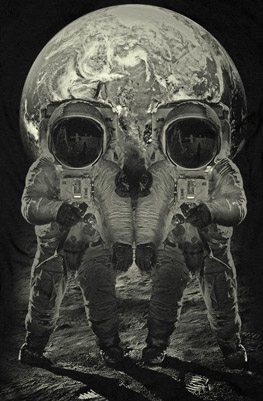 A decade ago, back when I was a kid, I used to play this computer game – just a sec – … was it Warcraft II, Civilization maybe? Can't be to sure about it, but what I remember is that there was a character who kept yelling The end is near! – in sort of dramatical way. Dunno what the connection was, but I remember the atmosphere which reminds me greatly of today's post.
I almost forgot there was a Skull category on this site (strange things happening with my memory lately). Year ago I promised we had enough of these, but I think its about time we ditch that decision.
Check out the "Earthrise" photo on your right. The original was taken on the Moon surface, and shows two astronauts with Earth in their back. But check again! Is there something disturbing about it? Do you see a skull of some sort? It can't be human! What is it then? If you had an opportunity to see this illusion through one of our widgets first (Optical Illusion of The Day), you probably have seen the illusion instantaneously!