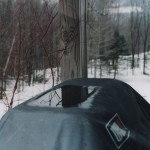 One day Georgia looked out of her window and thought her grill had a hole in it, it didn't took much effort and time for her to find out what she is seeing is yet another outdoor optical illusion, so thankfully she remembered our little community, and decided to share her photos with us. This is what she wrote in her email:
"Dear Mr. Illusion Man, I am in middle school and I love illusions and cool math things. I think your site is awesome and I have the widget. One day I looked out my window onto the porch and I thought there was a hole in the grill, but it was actually just really clear water reflecting the wooden pole thing. I put two different pictures on the email because I wasn't sure which one was better. I hope you post it. Invisible illusions are one of my faves ;)".
I am glad that you shared this with us Georgia, since it looks great (specially when you enlarge the photos). This is the first illusion after the widget update, and it should appear on your desktop in few minutes. Great opportunity to test the widget and comment it. The widget isn't meant to replace the website, but to show you "illusion of the day" on your desktop. If you notice, by clicking on the image in your desktop widget, it will bring you directly to that particular illusion's explanation and community comments. Also, this way you won't miss all the related stuff I link through in my articles. Enjoy!
News Flash – If you are a long time visitor and interested to participate in our new beta project, as being a future guest blogger, and co-editor of this website, send me a brief email including reasons why you believe you would be suitable for this fun co-operation ;) You can find my email in the sidebar, under "contact".