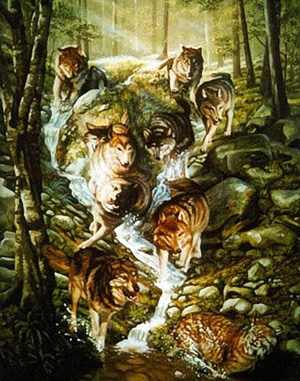 One of the benefits from having such big audience is constant flow of optical illusion submissions we get on a daily basis. The only problem is when person who submitted the illusion isn't aware of the original author, and apart from the picture attached the email lacks additional information for me to look up its origins on the interwebs. This is again where you come in handy.
Check out the painting on your right. The style somewhat resembles these previous hidden animal illusions, but am not exactly sure if this is the case. How do we link this awesome work to its origins? Any clues?
If we change the subject back to the site's theme, what do you see in this painting that makes it qualified as an optical illusion? How many wolves are there? Is there something hidden inside it? Anything else? Let's see what can you come up with!