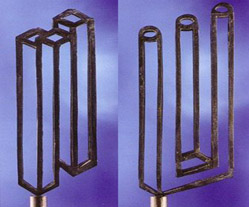 Guido Moretti is an Italian artist captivated by the beauty of analytical geometry. At the Faculty of Engineering at Padua University he created his first sculptures in plasticine.  Little later, his creativity knew no bounds – from stratification he moved on to rotations followed by orthogonal intersections. He created a set of sculptures of orthogonal intersections with various optical illusion shapes and impossible figures.
At the end of this article I have included rich gallery containing some of the most famous ambiguous sculptures done by Guido. But what is special about them, you might ask. Well, check out the photo that appeared in your widgets today. Same one you see on your right. Off course, the "impossible objects" motive you see is put in the second plan. More interesting part is that both of these photos represent a single unique sculpture. How is that? Well, if you remember one of our previous posts where we explained Shigeo Fukuda's "Encore" sculpture, the answer will come flying at you instantly!
Check the photo below to see this particular sculpture from three different angles, and be sure to view this video and experience the rotation. As I previously mentioned, I've added additional gallery beneath, where you can see few more of Guido's creations.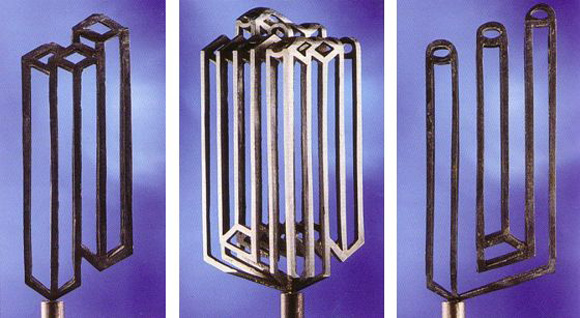 Guido Moretti's Ambigous Sculptures: