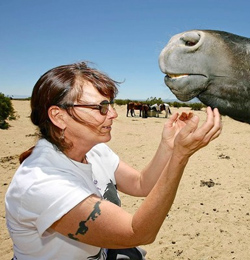 Rob Samborn sent me the attached photo on Wednesday. What it appears to be is a woman playing with a happy giant turtle. Maybe this isn't one of the best optical illusions the world has seen, but Rob managed to trick me, and this isn't something that happens so often to a "self-proclaimed" optical illusion professional like me.
Try and decode this illusion for yourselves, and if nothing else helps, then you may click the link below to expand the hidden solution. Did Rob manage to fool you as well, or was I the only sucker in town? I'm eager to hear your thoughts!
If you're wondering why there was no update on Saturday, I can assure you it was an isolated incident, because it took almost whole day to reinstall my PC. I have formatted my disk and finally decided to give Win 7 a try. You know how it is when you're updating your operating system, installing programs, drivers, etc – a never ending story.
Expandable Solution: