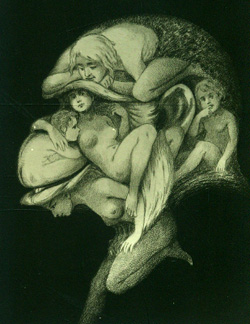 For the last few days I felt somewhat "depressed" concerning the optical illusion material we share. It somehow seemed that all of the illusions just kept repeating themselves lately, being nothing more than a variation of a variation of a variation. As if very rarely something truly original bumps up. Have we really exhausted the illusion well, and reached its bottom? Are we left to the position where we can't do anything but wait and hope for the new ones to be produced?
But then, having nothing better to do, I just relaxed in my chair and decided to try and navigate this website, seeing it through eyes of my readers, instead of my own administrative and technical view. I started navigating page by page, and after very short time I realized "Boy, there are some really awesome posts and illusions we did here. Some of them even I have forgotten about!". I was really shocked how much I enjoyed this site as an ordinary viewer. This truly regained my spirit back.
Seeing all the work we've done, I have to say I'm more than proud what we have built! With all my motivation back, I started searching and found tons of new material to share in the coming days; some in your mail submissions, and some in my own research! Enough of my wining for now, let's see what Vitaliy Razhanskiy decided to share with us… As it seems this postcard appeared on eBay titled "Darwin's Theory". Can you see the irony?