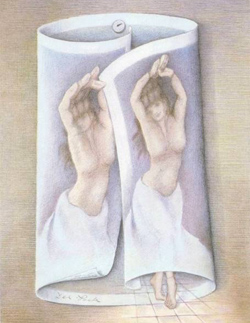 Let me see if I can dig up something I believe we haven't already showcased before. It's just that Sandro Del Prete's paintings sometimes resemble each other so greatly, I can't be exactly sure if I already blogged about this one. Either way, his transforming hands motive isn't  something we haven't already seen.
Still, take a look how seamlessly Sandro managed to differentiate figures shown on your right. What's so interesting about it, is that when you focus on the figure on your left there's no mistake it pictures a human hand. If you observe the right one, there's no point denying we see a young lady holding her hands up in the air. Yet if you compare the two figures, it's not easy to see any obvious differences. So how did he do that? It must be the surrounding context of each figure, if you ask me…
Looking forward to hear you ideas! If someone discovers this one was already featured, be sure to bring it up!