Spot The Object Category
(40 votes)
If you stare long enough at the image below, a face of a lion should hit you in the face, surprise! No wonder these zebras look so worried – they must be aware there's a lion spying on them. The image is work of Donald Rust, and is called "Hidden Lion",… obiously.
(22 votes)
See the face that bumps out of this chair's cushin? I see it too, but it isn't acctually bumping out. The magic behind this illusion is in the way the cushin is painted, including painted shadow of the face. It gives you impression it's some scary movie's digital effect where the face is moaning and […]
(37 votes)
How many horses can you find in this classic piece of art? I'm not sure what's the name of this artist, but the image is great! Much fun. Post your findings in comments section, and don't forget to check "How Many Faces", "Dolphins Illusion", "Pandas Illusion", "Coffe Bean Man", "Virgin's 75 Bands"… more in sidebar, […]
(20 votes)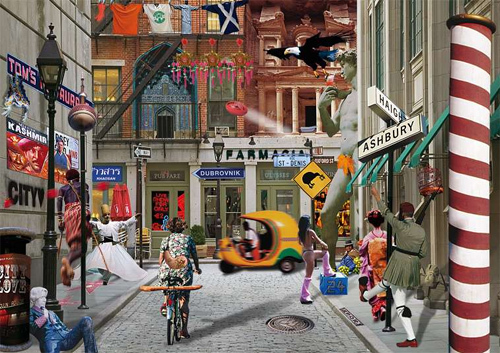 If you liked Virgin's Find 75 Bands also known as "Flex Your Music Muscle", you'll probably love Lonely Planet's "Cities" as well. The approach is little different this time; your assignment is to spot 45 cities in the wallpaper below. Some are directly mentioned, while others will give you a headache. There are 45 cities […]
(33 votes)
Can you see what's wrong with this room? Eventhough everything seems normal and in it's place, yet nothing is. Comment your findings, but don't spoil it by reveiling the whole truth! If you like this kind of illusion, jump to: "Something's Wrong 2″ and "Really Scary Illusion".
(24 votes)
How many horses can you count in this image below? It's obvious there is one in the middle, but if you observe and pay attention you will find a few more! Simmilar: "Count The Pandas", "How Many Dolphins", "Virgin 74 Bands"…
(29 votes)
The title says it all! Try to spot as many pandas you can looking at the image below. This type of illusion is the same as "Dolphins", "Many Faces", "Virgin's 75 Bands", "Face in a Coffe"…
(12 votes)
We got ourselves another user-submitted picture to share with you! Edith Wentz sent us this wonderfull image called "A secret Monument". It is located in Hanseviertel, shopping mall, Hamburg. The explanation should go something like this: "In the early eighties, many construction workers from Poland worked for West German building-sites, underpaid and exploited for the […]