Spot The Object Category
(13 votes)
Title says it all. Help me "see this one" – if you look at the image from sides, narrow your eyes, or simply step away from your monitor, silhouette of a famous person wil appear. I'm just not sure if it's Benjamin Franklin or George Washington or someone third… Previously I posted simmilar illusion of [...]
(34 votes)
Hehe, was just messing with Firefox Web Browser the other day. It's much more secure than Internet Explorer. It kind of reminded me of a funny picture I had somwhere on my hard disk. After some hard work, I finally located it and now I share it with you… It's posted below this text. Do [...]
(17 votes)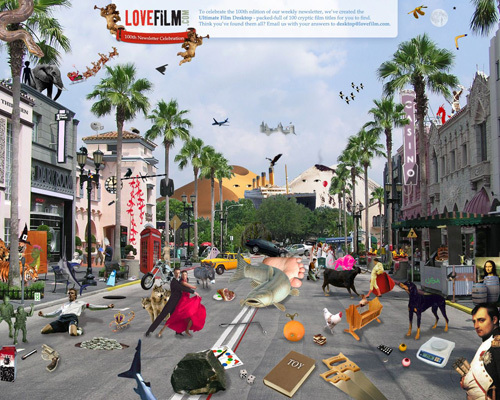 Remember our previous and most successful post, titled Virgin's 75 Bands? You can also find another similar one called "Lonely Planet's 45 Cities" if you browse our Spot The Object Category. Well this one is basically the same – only this time you have to find 100 movies! The one that jumps right out at [...]
(41 votes)
Here's another apropriate illusion, just in time for the Da Vinci Code movie! Previously I posted Ambigrams Illusion, so check our archive or use the search box. This one is also amazing! Look at this fliped image of Mona Lisa. There are two of them – they appear exactly the same, and nothng looks strange [...]
(33 votes)
Believe it or not, there are more than ten wolves hiding in this image below. Can you find them all? What is the acctual number of them? I was stuck at second one ;) Find them all, and post your comments!
(37 votes)
Before you start reading this, count the circles in the image below. How many are there (if there are any)? Also known as Coffer Illusion, this optical illusion was created by Anthony Norcia and qualified for top 10 category in "Best Visual Illusion Of The Year Contest". Anthony describes this visual phenomennon like this: First [...]
(39 votes)
Can you see the mother with her child, praying somwhere in this picture? No? I also had some hard time locating them, but at the end it all became so clear. Maybe if you just rotate the image… ;)
(32 votes)
Remember my historic post, "Machu Picchu" and more recent one – "Nature's Creations"? Well this one's the same. It's up to you to try and find hidden faces, embedded in these mountain cliffs. How many can you find? Post your findings!