Impossible Objects Category
(22 votes)
See these stairs? You presumed the coridor is at the end of them since this is the optical illusion site, right? Wrong! Acctually this is no illusion, but just me toying with you. If you didn't see this image here, you would presume correctly that there is just a wall at the end of them. […]
(30 votes)
Another cool work by Escher! This amazing Staircase Illusion in a way reminds me of classic computer game called Discworld. Am not sure why, it just does!
(23 votes)
Beleive it or not, this stroller's both front wheels are above the ground, it's just that the shadow fits perfectly and voila! Result: another optical illusion – [via].
(26 votes)
I'm not sure where this bridge can be found, but it's a wonderfull magic trick. You presume it goes on and on for miles, while in fact it is only 30 feet long! If you open this article, you will see another picture, just shot from different angle… – [via].
(86 votes)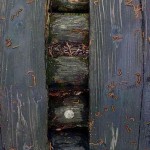 When you scroll down this page, looking at the bridge below it will be as if you looked back between your legs. Check it out! The effect it produces is really confusing.
(27 votes)
This is an actual photograph not a digital/photoshop manipulation. The best that I can tell is the only thing done to this image was to convert it to Black & White. How do you think it was done? Could a magnet be holding the King to the side of that raised block? – [via].
(54 votes)
You thought those impossbile objects I posted week ago were just nice delusional images. Think again; now you can see them constructed in real life! Hehe, kiddin' it's about shooting angle ;)
(40 votes)
Not to bore you only with Optical Illusions and Magic Tricks, here's a little assigment for you: for your Mighty Homework contruct this object. When you do so – be sure to send it to us, to convince us you did it!