Billboards Category
(21 votes)
Remember Audi's commercial we posted week ago? It was called "Audi in Escher's World" and you could stream the whole video if you wanted. These two pictures are from the same campaign, only this time it's about posters. You can see how Audi recognised optical illusions as a quality material for their promotion!
(36 votes)
In addition to "Painted Trucks" and "More Painted Trucks", here's another painted truck optical illusion. This one is a commercial for plumbing services, hope you like it as much as I do. Seems this week has some kind of painted trucks aura! Oh, this illusion was also posted by one of our fans! Thanks Kimmy! [...]
(22 votes)
Remember one of my previous posts, called "Painted Trucks"? I wasn't sure will I publish them since they were made in photoshop and not in real life, but just received a news update: It was a competition in Germany, where the winner pictures were approved and then applyed on real trucks! Here are the results! [...]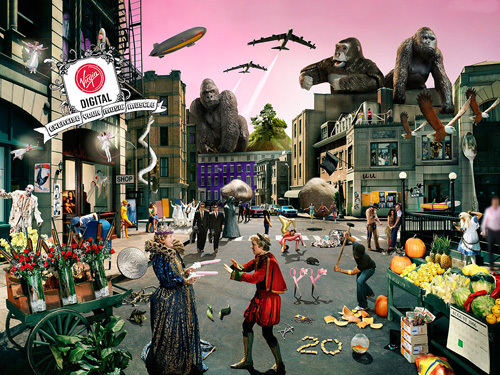 Alright, not your every-day Optical Illusion, never the less "The Virgin Digital Find the 75 Bands" competition is the cleverest piece of marketing I've seen in ages. If you haven't already got the picture in your mailbox, you can get the full-sized image by clicking on the image below. This Competition is guaranteed to provide [...]
(15 votes)
We got ourselves another user-submitted optical illusion! Thanks to Philip Hansen you can see this Audi Comercial inspired by M C Escher. A driver navigates his way through Escheresque world. Viral for some automobile. Jump inside this post to see the full video. Amazing! Currently video is down, but you can still view it here. [...]
(16 votes)
This one is Shell's Advertisment. Obivously, resemblence with "Snakes Illusion" and "Spinning Discs Illusion" can be noticed.
(40 votes)
These aren't to be considered pure optical illusions, but rather a set of images I found really amuzing, and decided to share with you. Jump inside this article to see more of these funny advertisments… Previously I've posted simmilar Illusion called "Pole Dancers", basically the same principle. Companies are trying harder from day to day [...]
(20 votes)
If you still hadn't enough of "Building Paintings" and "Murrals", here's another one! This isn't "BMW Illusion", it's Jetta this time… Still, provides some magic, doesn't it? I had simmilar paintings in my hometown, but shamely didn't take the picture… will try to get one soon! Thanks billboardom!