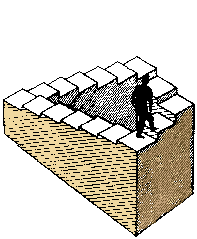 There's a great chance you've already seen something similar, or at least have a vague idea who Maurits Cornelis Escher was. In case you you haven't, he was the famous Dutch graphic artist, most known for his impossible structures (Ascending and Descending, Relativity…) and various tessellations.
Today's article features one of the animated variations of Escher's Ascending and Descending. In reality it would be impossible to construct staircase similar to this one, however there have been some semi-successful examples in the past.
Let's conduct a simple thought experiment: could you isolate the separation point, supposedly this object was actually a real-life construction instead, viewed from carefully selected angle?