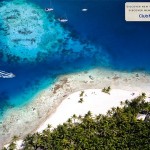 Remember that popular campaign done by Harley Davidson? They made really successful promotion of their new models, because of their smart optical illusion advertising. Everybody loves illusions, and they are certain to attract viewers attention. Sony did the same thing with their Bravia LCD Campaign. You can find all of them in our Billboards category. Well, today I found these nifty 3 posters from ClubMed. The smartly hid faces in them. I'm not sure what is their field of business, but I bet it has something to do with travel. I think I already posted some of their similar posters on this site, it's just that I can't manage to find that post. If you stumble upon it somewhere in our archives, be sure to drop a comment! Your easy assignment today: spot as many faces you can in the photos below!
Oh! I almost forgot! I have another awesome news for you. We have just launched another sister-website, called Mighty Magic Tricks. My intention is to make it internet biggest magic tricks database, filled with tricks, illusionist's acts, magician's performances and explanations and tutorials to perform your own magic acts! I'm really excited about this, and plan to daily update both of Mighty Network sites. What do you think about this? Now you can check both sites each day, for newest illusion and newest magic tricks. I also plan to create nifty widgets for Mighty Tricks, so stay tuned. In the mean time, please subscribe to Mighty Tricks rss feed, so you can track what's new. I recommend seeing David Blaine spoof video for start, to get you in the mood. I haven't seen something so funny for very, very long. Enjoy, and please share your thoughts! After you've found the faces in below posters, jump to Mighty Magic Tricks homepage.
If possible, I would like to ask you to share the news of our new website on your blogs and forums you participate in. This would help us in fair start of our new project. Your assistance will be highly appreciated!